Lots of wind and rain, still no power at my house (I'm posting from work, I literally lost power 5 minutes after the last post in here and its still not back 48+ hours later) Irene lived up to the hype IMO. MA/CT/RI had flooding and trees down, meanwhile VT, especially southern VT (from what I've read and seen online), got hammered with rain and it sounds like they're in bad shape up there.
For starters the Killington base lodge was knocked over.
The Okemo access road looks like this.

And a lot of other places seem to look similar to this: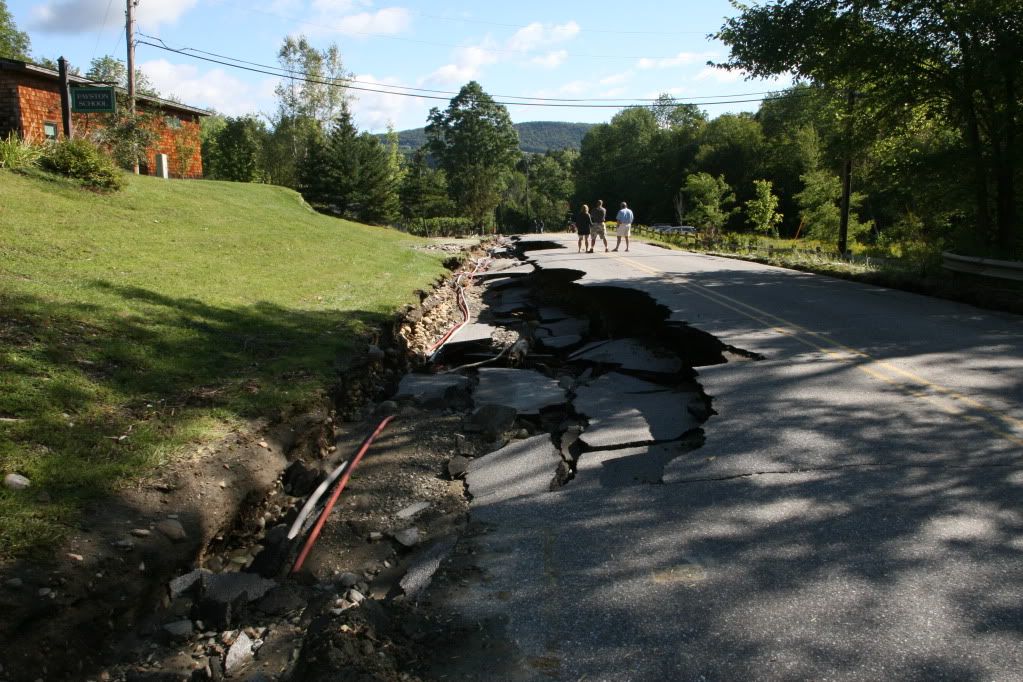 Hopefully everyone is OK and things get back to normal everywhere affected by Irene. I thought its been bad not having power for 48 hours and having to detour around closed roads going to work. I can't even imagine what this must be like after whats already been a bad summer precipitation wise for VT.
Its crazy what life is like with and without power. Keeping myself occupied has consisted of going out the trails, cleaning things up, then going to bed at 9. Good thing I can steal power from work for my laptop and phone. Haven't been down to the Back 9 yet but the Clubhouse survived, tons of small branches and leaves down but no big trees fell. I did see on Vic's FB a big limb or tree came down at Cumby. Hopefully the power is back soon and everyone can get back to their normal lives, what else can you do in a situation like this except stay positive and ride it through. If you have power here is a sweet video I saw...this guy has some crazy tech lines and can somehow bunnyhop onto 8' rocks.
A Hill in Spain
from
chris akrigg
on
Vimeo
.